Community Socials
Organizing a Mini Watermelon Festival
Hot
August 3rd is National Watermelon Day, so what better way to celebrate than with a mini watermelon festival?
When organizing a party of all things watermelon, consider having watermelon themed drinks, eats, deserts, decorations, crafts, and watermelon carving (who said carving was only for pumpkins?)
*BONUS* If you are feeling adventurous you can also prepare and/or serve pickled water melon rinds (a southern delicacy) and toasted watermelon seeds – which are actually a very healthy treat!
Drinks and Eats
Fruit salads, desserts, and smoothies can all be easily made with watermelon as a main ingredient, but there are other recipes for less traditional fare: 
Grilled Watermelon is sure to be a hit – brushed with olive oil and sprinkled with sea salt and pepper this is an unusual mix of sweet and savory.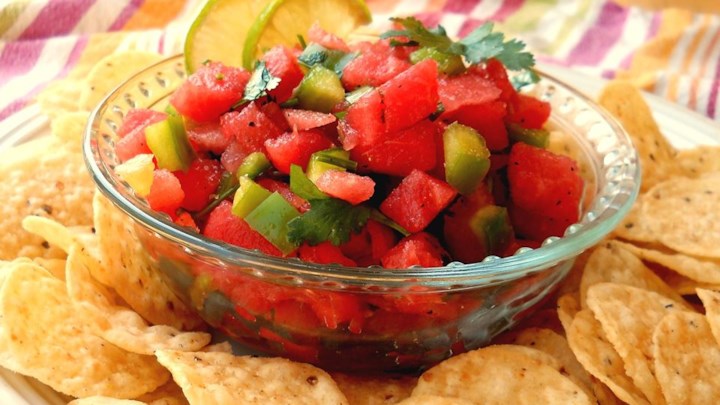 Watermelon salsa – Served with blue and white corn tortilla chips this salsa where tomatoes are replaced with watermelon makes a colorful, and flavorful addition to the snacks table.
Watermelon lemonade – The summer staple just got more colorful. But be sure to taste the watermelon fist before working through this recipe. If it is super sweet reduce the sugar to taste.
Watermelon Rice Krispie Treats – This is a fun twist on an old favorite. With two colors of krispies and chocolate chip "seeds" it is sure to be a hit!
Watermelon Salad with Feta –A mix of spicy and sweet, this salad with olive oil, hot sauce, olives, parsley, sliced onions and feta cheese is a unique twist on a simple side salad.
Decorations
The easiest way to get into the theme is to put up some watermelon colored triangle flags and other watermelon party decorations. You can also use this free watermelon garland pintable, or make your own. 
Also, consider a watermelon balloons set to hang around the room, and tape finished artworks to the walls as well!
Crafts
Image source: Crafts By Amanda
Watermelon fans crafted from half paper plates are a fun activity for younger kids and perfect for the end-of-summer heat. You can view full instructions here.
Image source: Crystal and Comp
Watermelon-colored hand prints and rind-printing crafts are other option as well. Be sure that if you're working with paint you inform parents ahead of time so they can dress kids appropriately. Also, use washable poster paints, keep lots of wipes and paper towels ready for cleanup, and protect furniture and floors from spills.
Image source: See Vanessa Craft
Watermelon carving
Print out images and ideas to get people's creative juices flowing. If available at your local library, check out a few books on fruit and vegetable carving as well for more pictures, ideas, and techniques. 
Image source: Jolly Tomato
To achieve these look, and inspire others to create their own carved fruits, you're going to need to pick up a Carving Tool Set ($14) or two with various sizes of carving knives. You may also need a box of toothpicks and large spoons to scoop out the red fruit inside.
Image source: Mental Floss 
*BONUS* For an added treat, hire a local food carving artisan to come and show off their skills for a few hours with event attendees. 
*TIP* Remember that watermelon can make quite a sticky mess, so be sure to have extra trashcans, towels, and wet wipes available to keep things tidy. Protect all work and serving surfaces as well as any floors and furniture from sticky hands. 
Be sure to take tons of pictures of the families and crafts to post to social media and advertise your community! Happy watermelon day!
User reviews
What do you think of this apartment party idea? Share your thoughts!